Plunkett's Industry Almanacs in Printed and eBook Formats
Wireless & Cellular Almanac 2019 Edition
---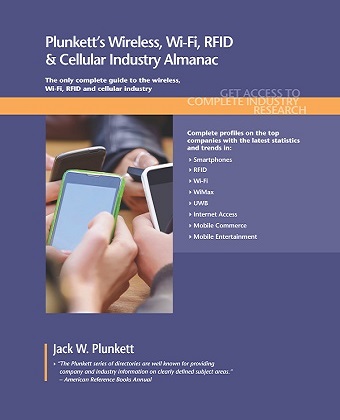 Printed Details:
ISBN-13: 978-1-62831-498-4
Publication Date: June 2018
Pages: 426
Price: $379.99
Buy this Book
Ebook Details
ISBN-13: 978-1-62831-824-1
Publication Date: June 2018
Pages: 426
Price: $379.99
Buy this Book
Key Findings:
Plunkett Research analyzes the top trends changing the industry, and provides in-depth industry statistics. In addition, this publication lists the top lists top 300 companies in the Wireless, Wi-Fi, RFID & Cellular Industry.
Available Formats:
Printed Almanac: ISBN 978-1-62831-498-4 (Available Now)

E-book: ISBN 978-1-62831-824-1 (Available Now)

Online Subscription
Key Features Include:
Industry trends analysis, market data and competitive intelligence

Market forecasts and Industry Statistics

Industry Associations and Professional Societies List

In-Depth Profiles of hundreds of leading companies

Industry Glossary

Link to our 5-minute video overview of this industry
Pages: 426
Statistical Tables Provided: 9
Companies Profiled: 289
Geographic Focus: Global
Price: $379.99
Key Questions Answered Include:
How is the industry evolving?

How is the industry being shaped by new technologies?

How is demand growing in emerging markets and mature economies?

What is the size of the market now and in the future?

What are the financial results of the leading companies?

What are the names and titles of top executives?

What are the top companies and what are their revenues?
This feature-rich book covers competitive intelligence, market research and business analysis—everything you need to know about the Wireless, Wi-Fi, RFID & Cellular business including:
Introduction to the Wireless Industry

3G and 4G Networks Rollout Worldwide/ 5G on the Horizon/Massive Investments Required

Wi-Fi Enables Wireless Traffic Growth

Google, Cablevision, FreedomPop and Republic Wireless Bypass Cellular Networks with Wi-Fi

Wireless Service Subscriptions Worldwide Top 8.2 Billion

RFID Drives Inventory Management Evolution

RFID Helps Manage Hospital and Pharmacy Inventories

Telemedicine and Remote Patient Monitoring Rely on Wireless

Self-Check-In Kiosks, RFID and Wireless Technologies Save Costs and Enhance Travelers' Experiences at Airlines

Hotels Adopt Smartphones and In-Room Tablets to Deliver Services, Speed Check-In and Replace Room Keys

Wireless Information Systems Surge Ahead in Vehicles: Telematics, ITS and Real-Time Traffic Information

In Emerging Nations, mChek and M-PESA Enable Remote Banking via Cellphone

Smartphones and Financial Technology (FinTech) Enable New Mobile Payment Methods

Mobile Videos and TV Gain Smartphone Users

Location-Based Services (LBS) Enhance Smartphones and Mobile Advertising

Global Mobile Apps Revenues Hit $58.6 Billion Yearly

In-Flight Wireless Takes Off

The "Internet of Things" (IoT) and M2M: Wireless Sensors to Boom, Aided by Nanotechnology

Nanotechnology & MEMS Applications in Optics and Displays Lead to a Breakthrough in Wireless Device Screens

Carriers Reinstate Unlimited Access Plans for Smartphones/Face Intense Subscription Price Competition

Voice and Face Recognition Change the Wireless World/Enable New Levels of User Interaction

Wearable Sensors Track Exercise Data/Apparel and Shoe Manufacturers Adopt Technologies

Light-Weight Satellites and Project Loon Balloons Studied for Internet Access and Whole-Earth Imaging

Smart Cities Utilize Big Data, Sensors and Advanced Technologies to Increase Efficiencies of All Kinds/Massive Business Opportunities Emerge

Overview of the Mobile Apps Industry
Wireless, Wi-Fi, RFID & Cellular Industry Statistics
Wireless, Wi-Fi, RFID & Cellular Industry Statistics and Market Size Overview

Internet Access Technologies Compared

Wireless Quick Facts, U.S.: 2008-2016

Wireless Standards & Speeds

Number of Business & Residential High Speed Internet Lines, U.S.: 2011-2017

Top Mobile Operators by Number of Subscribers, Worldwide

Wireless Telecommunications Carriers (except Satellite): Estimated Sources of Revenue & Expenses, U.S.: 2014-2017

Satellite Telecommunications: Estimated Sources of Revenue & Expenses, U.S.: 2013-2016

Wireless Telecommunications Industry (except Satellite) Employment, U.S.: 2009- April 2018
Companies Mentioned Include:
China Telecom Corporation Ltd

Alaska Communications Systems Group Inc

Samsung Electronics Co Ltd

T-Mobile US Inc

Amdocs Limited

America Movil SAB de CV

American Tower Corp

Anaren Inc

Apple Inc

Raytheon Applied Signal Technology Inc
A REPRESENTATIVE LIST OF ORGANIZATIONS THAT HAVE USED OUR RESEARCH PRODUCTS:
Testimonials

Your tool is very comprehensive and immensely useful. The vertical marketing tool is very helpful, for it assists us in that venue, as well as targeting customers' competition for new sales…The comprehensive material is absolutely fabulous. I am very impressed, I have to say!

We are especially trying to push Plunkett since all of our students have to do so much industry research and your interface is so easy to use.

I'm amazed at how much information is available and the various ways to access it. This will be a major resource for our serious job seekers.

I really appreciate the depth you were able to get to so quickly (for our project). The team has looked through the material and are very happy with the data you pulled together.

Plunkett Research Online is an excellent resource…the database contains a wealth of useful data on sectors and companies, which is easy to search and well presented. Help and advice on how to conduct, export and save searches is available at all stages.

The more I get into the database, the happier I am that we'll have it–REALLY happy!!! Between the quality and affordability of your product, its appeal to and value for our users, and the inestimably ethical and loyalty-guaranteeing conduct of your business, I will always have more than sufficient praises to sing for Plunkett Research.

Plunkett Research Online provides a great 'one stop shop' for us to quickly come up to speed on major industries. It provides us with an overall analysis of the market, key statistics, and overviews of the major players in the industry in an online service that is fast, easy to navigate, and reliable.

We are especially trying to push Plunkett's since all of our students have to do so much industry research and your interface is so easy to use.