Published: February 28, 2017.
Dollars & Details:
The average annual income for an American household (2.5 people in average size) is roughly $71,000.  This has grown by about $8,000 since 2010, not adjusted for inflation. 
What do Americans do with that income?  Some $11,000 of it goes to income taxes.  Next, while we probably don't save enough of our money, we do save more, on average, than you might think.  Of "disposable" income (what's left after paying income taxes), we were saving about 5.4% in late 2016.  That's a good increase from very low savings rates seen in 2005-2007, but a vast decrease from the 10%+ rates seen in the 1980s. 
Trends and Theories:
If health care and education hadn't become so expensive in recent years, we might be putting a lot more money into savings and investment.  Health care now accounts for almost 8% of a typical household's spending, a ratio that nearly doubled from 2005 through 2016! 
Education accounts for 2.3%, so much so that student loan totals (with $1.2 trillion outstanding balances) are 70% higher than total credit card balances.
Meanwhile, unhealthy habits take a big bite out of our wallets, with tobacco/smoking accounting for 0.6% of spending and alcoholic beverages nearly 1%.  Put another way, we spend five times as much on alcohol as we do on reading materials like books. 
Americans purchase 1 billion pair of shoes each year, but we nonetheless spend more on entertainment (5.1%) than we do on clothing (3.3%), and we spend more on transportation (17.0%) than we do on food (12.5%). 
We spend a roughly equal amount on food purchased to eat at home and food/beverages in restaurants.
Ranks and Results: 
While we still spend most of our money by walking into stores at America's 116,000 shopping centers, it's not a big surprise that we spend an ever-increasing portion of our money by shopping online. It isn't at all hard to imagine Amazon becoming America's largest retailer someday.  (A distinction currently held by Wal-Mart.)  Meanwhile, 15.8 Americans work in retail, making it one of our largest employment sectors by far.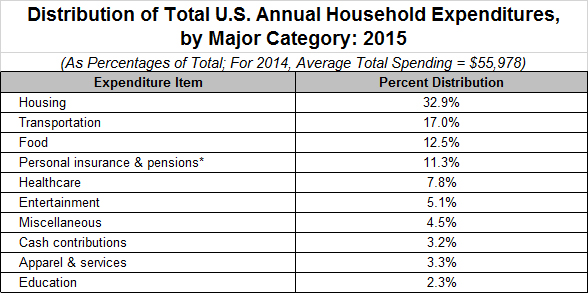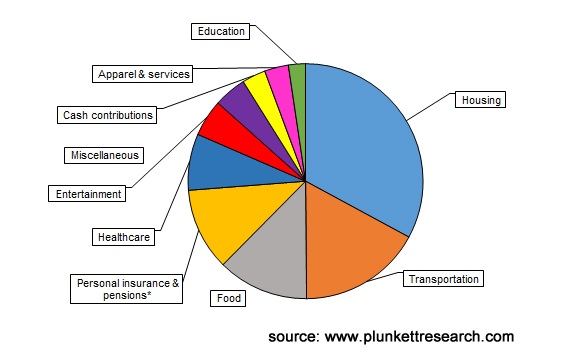 Hot-off-the-Press:
All the information you need about the global wireless industry can be found at Plunkett Research, including our Retail Industry Research Center Online, and our just-published, completely-updated Plunkett's Retail Industry Almanac, 2017 edition.