Smartphones and Financial Technology (FinTech) Enable New Mobile Payment Methods
A wide variety of services, technologies and strategies are now competing with conventional cash and credit cards for consumers' payment needs. Payment via smartphone is fostered by the fact a vast number of consumers are already managing their banking and investment accounts on their phones, keeping tabs on account balances and making transfers as needed.
Smartphones are being used by merchants and service companies as credit card readers, thanks to technology from companies like Square. The technology is a boon for small businesses that previously worked only on a cash or check basis.
Digital wallets are apps that enable smartphones to be used to pay for goods and services by waving the phones across readers at checkout counters. Users link a bank account or bank card to their digital wallet and funds are removed from the linked account. Google, Apple, and Samsung make some of the most widely used digital wallets, but numerous mid-sized to smaller providers operate around the globe.
While Americans were slow to adopt mobile payment technology, in China the potential of the mobile payment market is staggering. Social media giant Alibaba's Alipay mobile payment system holds a major share of the Chinese market. A number of other contenders are attempting to challenge Alipay's hold, notably major gaming and social media firm Tencent's Tenpay. WeChat, a multi-service platform in China that has more than 1 billion users, offers a number of simple payment apps accepted by individuals and businesses throughout the country.
For everything you need to know about the global Wireless, Wi-Fi, RFID & Cellular Industry sector, see:
Plunkett's Wireless, Wi-Fi, RFID & Cellular Industry Almanac 2021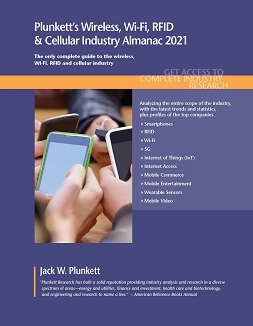 Available to Plunkett Research Online subscribers
See more information about the online edition here.
Also available in Almanac Editions.
Publication Date: July 2020 | Price: $379.99
Printed ISBN: 978-1-62831-574-5
eBook ISBN: 978-1-62831-883-8
See the complete listings of book contents and details here.