All You Need to Know About Covid's Impact on the Wireless Industry
Plunkett Research now provides complete coverage of the Coronavirus's effects on specific industries, via both our industry almanacs and our Plunkett Research Online system.
In the wake of the ongoing Coronavirus pandemic, there has been a massive increase in mobile network traffic as consumers who are sheltering at home or working at home turn to mobile apps for news, social media, video conferencing, shopping, entertainment, education and work.
Leading carriers such as Verizon extended the amount of data traffic available to subscribers at no additional monthly fee, in order to help consumers deal with the Coronavirus pandemic's multiple challenges.
Video conferencing on mobile devices using apps like Zoom sees soaring usage. Other popular meeting apps such as Microsoft Teams and Google's Hangouts and Meet likewise get a major boost. Social media app use on smartphones also soars.
Consumers turn to news apps in growing numbers, with mobile viewership growing at sites ranging from cnbc.com to foxnews.com and major newspaper sites.
Ecommerce soars via mobile devices, as consumers turn away from physical stores and order online. Likewise, delivery-on-demand apps for shopping companies like Instacart and food delivery services like GrubHub soar.
Plunkett Research, Ltd. is the leading provider of industry sector analysis and research, industry trends and industry statistics. Both our Plunkett Research Online and our 2021 Industry Almanacs feature coverage of the Coronavirus's effects on specific industries. Our research reports and online subscription service are used by the world's top corporations, consultants, universities, libraries and government agencies.
Plunkett's products save time and effort when you need competitive intelligence, market research, vertical industry marketing data, or industry trends analysis. We cover such vital industry sectors as health care, financial services, retailing, entertainment, energy and information technology.
For everything you need to know about the global Wireless, Wi-Fi, RFID & Cellular sector, see:
Plunkett's Wireless, Wi-Fi, RFID & Cellular Industry Almanac 2021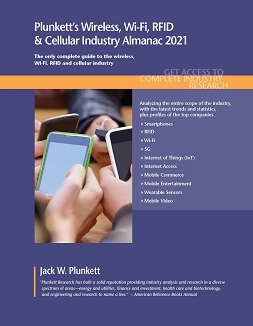 Available to Plunkett Research Online subscribers
See more information about the online edition here.
Also available in Almanac Editions.
Publication Date: July 2020 | Price: $379.99
Printed ISBN: 978-1-62831-574-5
eBook ISBN: 978-1-62831-883-8
See the complete listings of book contents and details here.