Plunkett's Industry Almanacs in Printed and eBook Formats
Transportation, Supply Chain & Logistics Industry Almanac 2022 Edition
---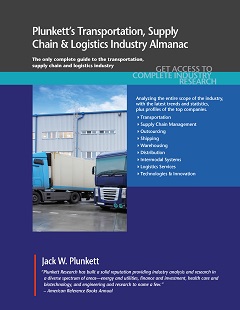 Printed Details
ISBN-13: 978-1-62831-620-9
Publication Date: April 2022
Pages: 672
Price: $379.99
Buy this Book
Ebook Details
ISBN-13: 978-1-62831-953-8
Publication Date: April 2022
Pages: 672
Price: $379.99
Buy this Book
Key Findings:
Plunkett Research analyzes the top trends changing the industry, and provides in-depth industry statistics. In addition, this publication profiles the top 500 companies in the Transportation, Supply Chain & Logistics Industry.
Available Formats:
Printed Almanac: ISBN 978-1-62831-620-9 (Available Now)

E-book: ISBN 978-1-62831-953-8 (Available Now)

Plunkett Research Online (Subscribers)
Key Features Include:
Industry trends analysis, market data and competitive intelligence

Market forecasts and Industry Statistics

Industry Associations and Professional Societies List

In-Depth Profiles of hundreds of leading companies

Industry Glossary
Pages: 672
Statistical Tables Provided: 11
Companies Profiled: 503
Geographic Focus: Global
Price: $379.99
Key Questions Answered Include:
How is the industry evolving?

How is the industry being shaped by new technologies?

How is demand growing in emerging markets and mature economies?

What is the size of the market now and in the future?

What are the financial results of the leading companies?

What are the names and titles of top executives?

What are the top companies and what are their revenues?
This feature-rich book covers competitive intelligence, market research and business analysis—everything you need to know about the Transportation, Supply Chain & Logistics business including:
Introduction to the Transportation, Supply Chain & Logistics Industry

Coronavirus Effects: Supply Chains are in Crisis Mode/Massive Shortages of Workers and Services/Airlines Attempting to Recover

3PL Logistics Services and Supply Chain Management Services Soar

FedEx, UPS & DHL Compete in Global Shipping and Logistics/Amazon.com Begins to Fulfill its Own Shipping Needs

Trucking Companies Focus on Driver Challenges, Regulatory Issues & Self-Driving Trucks

Freight Railways Invest in Automation, Infrastructure and Safety

China Makes Immense Investments in Railroads, Highways, Airports & Silk Road

High Speed Passenger Trains, Including Maglev, Advance in China and Europe

U.S. Passenger Train Projects Receive Funding, Including Light Rail and All Aboard Florida

Ships Get Bigger and More Efficient

Ports and Canals Expand to Accommodate Larger Vessels and Increased Shipment Volume

Discount Airlines Compete with Legacy Airlines, but the Differences Are Beginning to Blur

Boeing and Airbus Compete for New Orders

New Aircraft Designs Offer Greater Passenger Comfort/More Efficient Engines

Airports Expand

New Technologies Show Promise for Port and Airport Security

RFID Drives Inventory Management Evolution

Wireless Information Systems Surge Ahead in Vehicles: Telematics, ITS and Real Time Traffic Information

India's Transportation Infrastructure Needs Billions of Dollars in Construction

Uber, Lyft and Didi Dominate the Car on Demand (Raid Hailing) Industry

Self-Driving, Autonomous Cars Receive Massive Investments in Research and Development Worldwide

Bicycle Sharing Grows in Major Cities, But Finances Are Challenging

Smart Cities Utilize Sensors and Artificial Intelligence (AI)/Create Privacy and Security
Issues
Robotics, Artificial Intelligence (AI) and Automation Revolutionize Supply Chain and Logistics Systems

The Future of Transportation and Supply Chains: Massive Investments in Infrastructure, Mobility Services and Hyperloop
Transportation, Supply Chain & Logistics Industry Statistics
Transportation Industry Statistics and Market Size Overview

U.S. Transportation & Warehousing Industry Revenues: 2017-2020

U.S. Transportation & Warehousing Industry Expenses: 2017-2020

Top 50 Countries Providing U.S. Imports: 2014-2021

Top 50 Countries Receiving U.S. Exports: 2014-2021

Top 10 U.S. Airlines & Airports Ranked by 2021 System Scheduled Enplanements

Quarterly U.S. Scheduled Service Passenger Airlines Financial Reports: 3rd Quarter 2020-3rd Quarter 2021

Total Scheduled U.S. International Passenger Traffic, U.S. Commercial Air Carriers: 2010-2041

Air Carrier Traffic Statistics, U.S.: 1996-November 2021

U.S. Airline Passenger Activity: 2010-2041

Federal R&D & R&D Plant Funding for Transportation, U.S.: Fiscal Years 2019-2021
Companies Mentioned Include:
Toyota Motor Corporation

Volkswagen AG (VW)

Mercedes-Benz Group AG

Ford Motor Company

General Motors Company (GM)

Bayerische Motoren Werke AG (BMW Group)

Stellantis NV

Hyundai Motor Company

Nissan Motor Co Ltd

United Parcel Service Inc (UPS)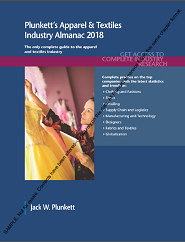 Download a Sample Almanac
*Note: This sample is a previous year's edition for a different industry. All of our Industry Almanacs are similar in nature and follow the same format.
A REPRESENTATIVE LIST OF ORGANIZATIONS THAT HAVE USED OUR RESEARCH PRODUCTS:
Testimonials

Your tool is very comprehensive and immensely useful. The vertical marketing tool is very helpful, for it assists us in that venue, as well as targeting customers' competition for new sales…The comprehensive material is absolutely fabulous. I am very impressed, I have to say!

We are especially trying to push Plunkett since all of our students have to do so much industry research and your interface is so easy to use.

I'm amazed at how much information is available and the various ways to access it. This will be a major resource for our serious job seekers.

I really appreciate the depth you were able to get to so quickly (for our project). The team has looked through the material and are very happy with the data you pulled together.

Plunkett Research Online is an excellent resource…the database contains a wealth of useful data on sectors and companies, which is easy to search and well presented. Help and advice on how to conduct, export and save searches is available at all stages.

The more I get into the database, the happier I am that we'll have it–REALLY happy!!! Between the quality and affordability of your product, its appeal to and value for our users, and the inestimably ethical and loyalty-guaranteeing conduct of your business, I will always have more than sufficient praises to sing for Plunkett Research.

Plunkett Research Online provides a great 'one stop shop' for us to quickly come up to speed on major industries. It provides us with an overall analysis of the market, key statistics, and overviews of the major players in the industry in an online service that is fast, easy to navigate, and reliable.

We are especially trying to push Plunkett's since all of our students have to do so much industry research and your interface is so easy to use.