Plunkett's Industry Almanacs in Printed and eBook Formats
Sports & Recreation Industry Almanac 2023 Edition
---
Printed Details
ISBN-13: 978-1-62831-666-7
Publication Date: July 2022
Pages: 538
Price: $399.99
Buy this Book
Ebook Details
ISBN-13: 978-1-62831-991-0
Publication Date: July 2022
Pages: 538
Price: $399.99
Buy this Book
Key Findings:
Plunkett Research analyzes the top trends changing the industry, and provides in-depth industry statistics. In addition, this publication profiles the top 350 companies in the Sports & Recreation Industry.
Available Formats:
Printed Almanac: ISBN 978-1-62831-666-7 (Available Now)

E-book: ISBN 978-1-62831-991-0 (Available Now)

Plunkett Research Online (Subscribers)
Key Features Include:
Industry trends analysis, market data and competitive intelligence

Market forecasts and Industry Statistics

Industry Associations and Professional Societies List

In-Depth Profiles of hundreds of leading companies

Industry Glossary
Pages: 538
Statistical Tables Provided: 8
Companies Profiled: 410
Geographic Focus: Global
Price: $399.99
Key Questions Answered Include:
How is the industry evolving?

How is the industry being shaped by new technologies?

How is demand growing in emerging markets and mature economies?

What is the size of the market now and in the future?

What are the financial results of the leading companies?

What are the names and titles of top executives?

What are the top companies and what are their revenues?
This feature-rich book covers competitive intelligence, market research and business analysis—everything you need to know about the sports & recreation business including:
Introduction to the Sports & Recreation Industry

The Coronavirus' Effect on the Sports & Recreation Industry

NFL (National Football League): The Biggest Money in U.S. Sports

Broadcasting Fees, Digital Access and Investment Savvy Boost MLB (Major League Baseball)

NBA (National Basketball Association) Goes Global

NHL (National Hockey League) Expands

Television Rights Contracts Bring in Lucrative Revenues for Major Sports Leagues

Soccer (Football) Leagues in the U.S. and Europe Reap Significant Revenues and Sponsorships

New Sports Stadiums Launched in the U.S./Stadium Sponsorships Offset Costs

NCAA College Sports Are Big Revenue Earners/Student Athletes Eligible for Some Compensation

PGA (Professional Golf Association) Faces Competition from LIV

Fantasy Sports Post Growth, with 60 Million Players

eSports: Electronic Games Become Spectator Sports

Sports Betting Gains Traction with Online Betting

Sports Equipment Manufacturers Offer the Latest High-Tech Advantages

Wearable Sensors Track Exercise Data/Apparel and Shoe Manufacturers Adopt
Technologies
Sports Agents Are Indispensable/Sports Marketing Booms in China

Sports Licensing Heats Up

New Video Game Console Technologies and Features Boost Sales

Virtual Reality/Augmented Reality and 3-D Games Create Opportunities in the Tech
Industry/Immersion Games to Grow
Aging Baby Boomers Will Cause Significant Changes in the Leisure Sector, Including Sports and Activity-Based Travel

Athletic Footwear Sales Boom, Drawing Big Names from Athletes to Designers

The Vast Majority of Shoes Sold in the U.S. Are Made Elsewhere

3-D Printing and Robotics Revolutionize Manufacture of Shoes and Fabrics

Exercise Apparel Sales Rise/Athleisure Clothing Sales Soar

Sports Equipment and Social Media Converge

The Future of the Sports Industry Will Be Shaped by Technologies and Demographics
Sports Industry Statistics
Sports & Recreation Industry Statistics and Market Size Overview

Global Sports Industry Revenues, 2019-2021

Selected U.S. Sports Industry Revenues: 2015-2021

Sports Industry, Estimated Sources of Revenue & Expenses, U.S.: 2016-2021

U.S. Spectator Sports, Performing Arts & Related Industries, Breakdown of Expenses: 2017-2020

Estimated Monthly Sporting Goods Stores Retail Sales, U.S.: 1992- March 2022

Overview of the Media Contracts of the Four Big Sports Leagues

Sports Industry Employment by Business Type, U.S.: 2018-2022
Companies Mentioned Include:
Comcast Corporation

Walt Disney Company

Disney Media & Entertainment Distribution

Nike Inc

WarnerMedia (Warner Media LLC)

NBCUniversal Media LLC

Paramount Global

adidas AG

ESPN Inc

Cox Communications Inc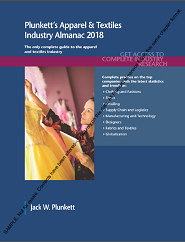 Download a Sample Almanac
*Note: This sample is a previous year's edition for a different industry. All of our Industry Almanacs are similar in nature and follow the same format.
A REPRESENTATIVE LIST OF ORGANIZATIONS THAT HAVE USED OUR RESEARCH PRODUCTS:
Testimonials

Your tool is very comprehensive and immensely useful. The vertical marketing tool is very helpful, for it assists us in that venue, as well as targeting customers' competition for new sales…The comprehensive material is absolutely fabulous. I am very impressed, I have to say!

We are especially trying to push Plunkett since all of our students have to do so much industry research and your interface is so easy to use.

I'm amazed at how much information is available and the various ways to access it. This will be a major resource for our serious job seekers.

I really appreciate the depth you were able to get to so quickly (for our project). The team has looked through the material and are very happy with the data you pulled together.

Plunkett Research Online is an excellent resource…the database contains a wealth of useful data on sectors and companies, which is easy to search and well presented. Help and advice on how to conduct, export and save searches is available at all stages.

The more I get into the database, the happier I am that we'll have it–REALLY happy!!! Between the quality and affordability of your product, its appeal to and value for our users, and the inestimably ethical and loyalty-guaranteeing conduct of your business, I will always have more than sufficient praises to sing for Plunkett Research.

Plunkett Research Online provides a great 'one stop shop' for us to quickly come up to speed on major industries. It provides us with an overall analysis of the market, key statistics, and overviews of the major players in the industry in an online service that is fast, easy to navigate, and reliable.

We are especially trying to push Plunkett's since all of our students have to do so much industry research and your interface is so easy to use.