Plunkett's Industry Almanacs in Printed and eBook Formats
Sharing & Gig Economy, Freelance Workers & On-Demand Delivery Industry Almanac 2022 Edition
---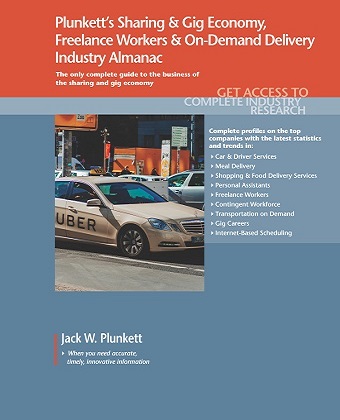 Printed Details
ISBN-13: 978-1-62831-627-8
Publication Date: February 2022
Pages: 234
Price: $379.99
Buy this Book
Ebook Details
ISBN-13: 978-1-62831-949-1
Publication Date: February 2022
Pages: 234
Price: $379.99
Buy this Book
Key Findings:
Plunkett Research analyzes the top trends changing the industry, and provides in-depth industry statistics. In addition, this publication profiles the top 150 companies in the Sharing & Gig Economy, Freelance Workers & On Demand Delivery Industry.
Available Formats:
Printed Almanac: ISBN 978-1-62831-627-8 (Available)

E-book: ISBN 978-1-62831-949-1 (Available)

Plunkett Research Online (Subscribers)
Key Features Include:
Industry trends analysis, market data and competitive intelligence

Market forecasts and Industry Statistics

Industry Associations and Professional Societies List

In-Depth Profiles of hundreds of leading companies

Industry Glossary

Link to our 5-minute video overview of this industry
Pages: 234
Statistical Tables Provided: 4
Companies Profiled: 156
Geographic Focus: Global
Price: $379.99
Key Questions Answered Include:
How is the industry evolving?

How is the industry being shaped by new technologies?

How is demand growing in emerging markets and mature economies?

What is the size of the market now and in the future?

What are the financial results of the leading companies?

What are the names and titles of top executives?

What are the top companies and what are their revenues?
This feature-rich book covers competitive intelligence, market research and business analysis—everything you need to know about the Sharing & Gig Economy, Freelance Workers & On Demand Delivery Industry business including:
Introduction to the Sharing & Gig Economy Industry

The Coronavirus' Effect on the Sharing & Gig Economy

The Sharing & Gig Economy's Effect on Employment, Work Life and Careers

Gig Workers'/Drivers' Rights & Employment Status Evolve

Repairs, Errand-Running, Pet Walking and Assembly-on-Demand Businesses Evolve

Sharing Economy Gains Market Share in Travel with Online Sites Like Airbnb, Vrbo and Many Global Competitors

Private Jet Sharing and Rentals Grow

Uber, Lyft and Didi Dominate the Car on Demand (Ride Hailing) Industry

Self-Driving, Autonomous Cars Receive Massive Investments in Research and Development Worldwide

Bicycle Sharing Grows in Major Cities, But Finances Are Challenging

Demand for Home Grocery Delivery Service Such as Instacart and Amazon Fresh Soars

Meal Kits from Firms like Blue Apron Make It Easy to Prepare Home-Cooked Meals

Grubhub, DoorDash and Others Deliver Restaurant Meals and Household Items to Homes

Fashion Rental Pioneered by Online Apparel Firm Rent the Runway

Shared Spaces for Co-Living and Co-Working Face Challenges

Gig Economy and Self-Driving Cars Pose Insurance Challenges and Underwriting Opportunities

The Future of the Sharing Economy and Gig Workforce: Regulation, Benefits, Licensing and Soaring Growth
Sharing & Gig Economy, Freelance Workers & On Demand Delivery Industry Statistics
Sharing and Gig Economy Industry Statistics and Market Size Overview

Persons Not in the Labor Force and Multiple Jobholders by Sex, U.S.: 2020-2021

Share of U.S. Adults Performing Gig Work: 2020

U.S. Gig Workers, by Age and Activity: 2019
Companies Mentioned Include:
GLAMSQUAD Inc

Care.com Inc

FreshDirect LLC

HomeAway Inc

Trueblue Inc

Parking Panda Corp

Doctor On Demand Inc

Wingz Inc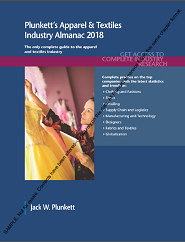 Download a Sample Almanac
*Note: This sample is a previous year's edition for a different industry. All of our Industry Almanacs are similar in nature and follow the same format.
A REPRESENTATIVE LIST OF ORGANIZATIONS THAT HAVE USED OUR RESEARCH PRODUCTS:
Testimonials

Your tool is very comprehensive and immensely useful. The vertical marketing tool is very helpful, for it assists us in that venue, as well as targeting customers' competition for new sales…The comprehensive material is absolutely fabulous. I am very impressed, I have to say!

We are especially trying to push Plunkett since all of our students have to do so much industry research and your interface is so easy to use.

I'm amazed at how much information is available and the various ways to access it. This will be a major resource for our serious job seekers.

I really appreciate the depth you were able to get to so quickly (for our project). The team has looked through the material and are very happy with the data you pulled together.

Plunkett Research Online is an excellent resource…the database contains a wealth of useful data on sectors and companies, which is easy to search and well presented. Help and advice on how to conduct, export and save searches is available at all stages.

The more I get into the database, the happier I am that we'll have it–REALLY happy!!! Between the quality and affordability of your product, its appeal to and value for our users, and the inestimably ethical and loyalty-guaranteeing conduct of your business, I will always have more than sufficient praises to sing for Plunkett Research.

Plunkett Research Online provides a great 'one stop shop' for us to quickly come up to speed on major industries. It provides us with an overall analysis of the market, key statistics, and overviews of the major players in the industry in an online service that is fast, easy to navigate, and reliable.

We are especially trying to push Plunkett's since all of our students have to do so much industry research and your interface is so easy to use.