Plunkett's Industry Almanacs in Printed and eBook Formats
Restaurant, Hotel and Hospitality Industry Almanac 2022 Edition
---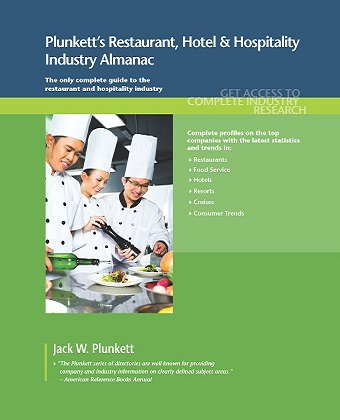 Printed Details
ISBN-13: 978-1-62831-617-9
Publication Date: May 2022
Pages: 492
Price: $379.99
Buy this Book
Ebook Details
ISBN-13: 978-1-62831-947-7
Publication Date: May 2022
Pages: 492
Price: $379.99
Buy this Book
Key findings:
Plunkett Research analyzes the top trends changing the industry, and provides in-depth industry statistics. In addition, this publication profiles the top 350 companies in Restaurant, Hotel & Hospitality Industry.
Available Formats:
Printed Almanac: ISBN 978-1-62831-617-9 (Available Now)

E-book: ISBN 978-1-62831-947-7 (Available Now)

Plunkett Research Online (Subscribers)
Key Features Include:
Industry trends analysis, market data and competitive intelligence

Market forecasts and Industry Statistics

Industry Associations and Professional Societies List

In-Depth Profiles of hundreds of leading companies

Industry Glossary
Pages: 492
Statistical Tables Provided: 6
Companies Profiled: 355
Geographic Focus: Global
Price: $379.99
Key Questions Answered Include:
How is the industry evolving?

How is the industry being shaped by new technologies?

How is demand growing in emerging markets and mature economies?

What is the size of the market now and in the future?

What are the financial results of the leading companies?

What are the names and titles of top executives?

What are the top companies and what are their revenues?
This feature-rich book covers competitive intelligence, market research and business analysis—everything you need to know about the restaurant, hotel and hospitality business including:
Introduction to the Restaurant, Hotel & Hospitality Industry
Introduction to the Restaurant, Hotel & Hospitality Industry

The Coronavirus' Effect on the Global Restaurant, Hotel & Hospitality Industry

McDonald's and Other Fast Food Companies Reposition to Adapt to New Consumer Tastes and Robotics

Wages for Restaurant, Hotel and Hospitality Workers

Fast Food Faces Stiff Competition from Casual Dining Restaurants (Fast Casual/Fast Fine)

Food Trucks Enjoy a Boom

Craft/Microbreweries Proliferate

Grubhub, DoorDash and Others Deliver Restaurant Meals and Household Items to
Customers' Homes

Obesity Sparks Government, School and Corporate Initiatives/Snack Foods Get Healthier/Taxes on Unhealthy Foods

Retail Technologies Advance for Restaurant Online Ordering, along with Robotics and Automation

Cruise Industry Rebuilds After the Coronavirus

Small Cruise Ships Feature Adventure, Luxury, Intimacy or Access to More Places

River Cruise Lines Launched with Low Capital Investment and High Fares

Chinese Tourism Will Create Growth Opportunities for the Cruise and Hotel Industries

Ecotourism, Sustainable Tourism, Adventure Tourism and Volunteerism Grow as
Certification Standards Emerge

Luxury Hotel Chains Expanded Globally

What Millennials and Mobile-Savvy Consumers Want as Tourists and Travelers

Hotels Target Young Customers with Strategies Ranging from Micro Rooms and Hostels, to Hip Hotels that Encourage Mingling to Fitness Options

Hotels Adopt Smartphones and In-Room Tablets to Deliver Services, Speed Check-In and Replace Room Keys

Sharing Economy Gains Market Share in Travel with Online Sites Like Airbnb, Vrbo and
Many Global Competitors

Online Travel Agencies (OTAs)/Hotels Fight to Keep Control of the Customer

Hotel Mergers Enable Chains to Claim Market Share, Add Unique Properties

Localization will Drive Hotel Features, Marketing

Dog-Friendly Hotels Gain Market Share

The Future of the Restaurant, Hotel & Hospitality Industry
Restaurant, Hotel & Hospitality Industry Statistics
Restaurant, Hotel & Hospitality Industry Statistics and Market Size Overview

Estimated U.S. Food Services and Drinking Places Sector Revenues by NAICS Code: 2014-2021

Estimated U.S. Accommodation Sector Quarterly Revenues: 2019-4th Quarter 2021

Consumer Food Price Indexes, Food Away from Home & Food at Home, U.S.: 1997-2020

Restaurant and Hospitality Industry Employment by Business Type, U.S.: 2017-2022

Food Preparation and Serving Related Employment and Wage Estimates by Occupation, U.S.: May 2020
Companies Mentioned Include:
UniPro Foodservice Inc

SYSCO Corporation

StoneX Group Inc

Reyes Holdings LLC

Performance Food Group Company

Inspire Brands Inc

Starbucks Corporation

Burger King Worldwide Inc

Southern Glazers Wine & Spirits LLC

Sodexo Group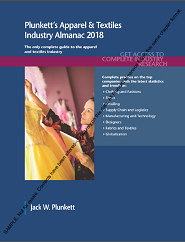 Download a Sample Almanac
*Note: This sample is a previous year's edition for a different industry. All of our Industry Almanacs are similar in nature and follow the same format.
A REPRESENTATIVE LIST OF ORGANIZATIONS THAT HAVE USED OUR RESEARCH PRODUCTS:
Testimonials

Your tool is very comprehensive and immensely useful. The vertical marketing tool is very helpful, for it assists us in that venue, as well as targeting customers' competition for new sales…The comprehensive material is absolutely fabulous. I am very impressed, I have to say!

We are especially trying to push Plunkett since all of our students have to do so much industry research and your interface is so easy to use.

I'm amazed at how much information is available and the various ways to access it. This will be a major resource for our serious job seekers.

I really appreciate the depth you were able to get to so quickly (for our project). The team has looked through the material and are very happy with the data you pulled together.

Plunkett Research Online is an excellent resource…the database contains a wealth of useful data on sectors and companies, which is easy to search and well presented. Help and advice on how to conduct, export and save searches is available at all stages.

The more I get into the database, the happier I am that we'll have it–REALLY happy!!! Between the quality and affordability of your product, its appeal to and value for our users, and the inestimably ethical and loyalty-guaranteeing conduct of your business, I will always have more than sufficient praises to sing for Plunkett Research.

Plunkett Research Online provides a great 'one stop shop' for us to quickly come up to speed on major industries. It provides us with an overall analysis of the market, key statistics, and overviews of the major players in the industry in an online service that is fast, easy to navigate, and reliable.

We are especially trying to push Plunkett's since all of our students have to do so much industry research and your interface is so easy to use.