Plunkett's Industry Almanacs in Printed and eBook Formats
Middle Market Companies Industry Almanac 2023 Edition
---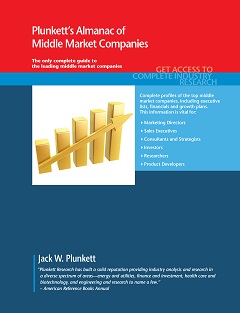 Printed Details
ISBN-13: 978-1-62831-638-4
Publication Date: August 2022
Pages: 618
Price: $399.99
Buy this Book
Ebook Details
ISBN-13: 978-1-62831-963-7
Publication Date: August 2022
Pages: 618
Price: $399.99
Buy this Book
Key Findings:

Plunkett's Almanac of Middle Market Companies provides competitive intelligence, market research and business analysis--everything needed to identify and develop strategies for dealing with or selling to middle market U.S.-based corporations (those with $100 million to $1 billion in annual revenues). Gain vital insights that can help shape strategy for business development, product development and investments.

Key Features:

Business analysis

In-depth industry company overviews

Industry Glossary

Industry Contacts list, including Professional Societies and Industry Associations

Profiles of 500 industry-leading, U.S.-headquartered middle-market corporations

Publicly held, Private and Subsidiary Corporations

Executive Contacts

Financial Histories

Descriptions of Business
Pages: 618
Companies Profiled: 500
Geographic Focus: U.S.
Price: $399.99

Gather Key Insights, Such As:

How is each industry evolving?

How is business being shaped by new technologies?

How is demand growing?

What are the financial results of the leading companies?

What are the names and titles of top executives?

What are the top companies and what are their revenues?



Plunkett's Almanac of Middle Market Companies and online Middle Market Industry Research Center are designed to be time-saving business development tools for professionals, marketers, sales directors, consultants, and strategists seeking to understand and reach middle market American companies. It will also be of great use to placement, recruiting and human resources professionals, as well as professionals working in economic development, lending, and media. This feature rich almanac includes:
Important Contacts for Middle Market Analysis & Marketing
Addresses, Telephone Numbers and Internet Sites
THE MIDDLE MARKET 500:
Who They Are and How They Were Chosen
Index of Companies Within Industry Groups

Alphabetical Index

Index of U.S. Headquarters Location by State

Individual Profiles on each of THE MIDDLE MARKET 500
Additional Indexes
Index of Firms Noted as Hot Spots for Advancement for Women/Minorities

Index of Subsidiaries, Brand Names and Selected Affiliations
Glossary of Useful Middle Market Terms
The companies chosen to be listed in PLUNKETT'S ALMANAC OF MIDDLE MARKET COMPANIES comprise a unique list. THE MIDDLE MARKET 500 were chosen specifically to be top firms headquartered in the United States with revenues of between approximately $100 million and $1 billion. (We have intentionally included a few important companies with revenues above or below those amounts). The firms have been filtered from our extensive, proprietary corporate information database. The middle market companies chosen include both private and publicly held companies. They include most major industry sectors. The list is weighted towards fast-growing middle market sectors that we believe users will most want to analyze and/or market to: health products and services; biotech; energy; financial services including asset management, insurance and REITs; real estate development, construction and management; computer software; computer hardware and other electronics manufacturing; selected apparel firms; selected consulting, logistics and transportation firms; along with other important sectors.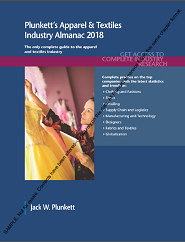 Download a Sample Almanac
*Note: This sample is a previous year's edition for a different industry. All of our Industry Almanacs are similar in nature and follow the same format.
A REPRESENTATIVE LIST OF ORGANIZATIONS THAT HAVE USED OUR RESEARCH PRODUCTS:
Testimonials

Your tool is very comprehensive and immensely useful. The vertical marketing tool is very helpful, for it assists us in that venue, as well as targeting customers' competition for new sales…The comprehensive material is absolutely fabulous. I am very impressed, I have to say!

We are especially trying to push Plunkett since all of our students have to do so much industry research and your interface is so easy to use.

I'm amazed at how much information is available and the various ways to access it. This will be a major resource for our serious job seekers.

I really appreciate the depth you were able to get to so quickly (for our project). The team has looked through the material and are very happy with the data you pulled together.

Plunkett Research Online is an excellent resource…the database contains a wealth of useful data on sectors and companies, which is easy to search and well presented. Help and advice on how to conduct, export and save searches is available at all stages.

The more I get into the database, the happier I am that we'll have it–REALLY happy!!! Between the quality and affordability of your product, its appeal to and value for our users, and the inestimably ethical and loyalty-guaranteeing conduct of your business, I will always have more than sufficient praises to sing for Plunkett Research.

Plunkett Research Online provides a great 'one stop shop' for us to quickly come up to speed on major industries. It provides us with an overall analysis of the market, key statistics, and overviews of the major players in the industry in an online service that is fast, easy to navigate, and reliable.

We are especially trying to push Plunkett's since all of our students have to do so much industry research and your interface is so easy to use.