Plunkett's Industry Almanacs in Printed and eBook Formats
Middle Market Companies Industry Almanac 2022 Edition
---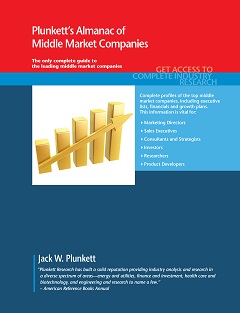 Printed Details
ISBN-13: 978-1-62831-607-0
Publication Date: August 2021
Pages: 622
Price: $379.99
Buy this Book
Ebook Details
ISBN-13: 978-1-62831-921-7
Publication Date: August 2021
Pages: 622
Price: $379.99
Buy this Book
Key Findings:
Plunkett Research profiles top 500 companies in Middle Market.
Available Formats:
Printed Almanac: ISBN 978-1-62831-607-0 (Available Now)

E-book: ISBN 978-1-62831-921-7 (Available Now)

Plunkett Research Online (Subscribers)
Key Features Include:
Industry trends analysis, market data and competitive intelligence

Market forecasts and Industry Statistics

Industry Associations and Professional Societies List

In-Depth Profiles of hundreds of leading companies

Industry Glossary

Link to our 5-minute video overview of this industry
Pages: 622
Companies Profiled: 503
Geographic Focus: US
Price: $379.99
Key Questions Answered Include:
How is the industry evolving?

How is the industry being shaped by new technologies?

How is demand growing in emerging markets and mature economies?

What is the size of the market now and in the future?

What are the financial results of the leading companies?

What are the names and titles of top executives?

What are the top companies and what are their revenues?
Our new Plunkett's Almanac of Middle Market Companies and our online Middle Market Industry Research Center are designed to be time-saving business development tools for professionals, marketers, sales directors, consultants and strategists seeking to understand and reach middle market American companies. It will also be of great use to placement, recruiting and human resources professionals, as well as professionals working in economic development, lending and media.
This exciting new book covers competitive intelligence, market research and business analysis--everything you need to identify and develop strategies for middle market corporations, including:
Profiles of middle market manufacturers of all types

Profiles of middle market distributors

Profiles of mid-sized technology, hardware, software and biotech firms

Profiles of mid-sized companies in financial services

Profiles of mid-sized companies in energy, food products, apparel, entertainment, real estate and transportation

Profiles of middle market health care services and products firms.

A business terms glossary, and a directory of vital industry associations, professional organizations and government agencies that is of great use to marketers and consultants.
Companies Mentioned Include:
Xaxis

1-800-Flowers.com Inc

Abt Associates Inc

ArthroCare Corporation

Arthur D Little

Belo Corp

Abaxis Inc

Abiomed Inc

Geokinetics Inc

Goodrich Petroleum Corporation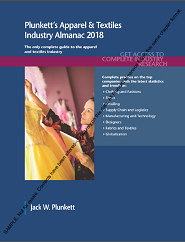 Download a Sample Almanac
*Note: This sample is a previous year's edition for a different industry. All of our Industry Almanacs are similar in nature and follow the same format.
A REPRESENTATIVE LIST OF ORGANIZATIONS THAT HAVE USED OUR RESEARCH PRODUCTS:
Testimonials

Your tool is very comprehensive and immensely useful. The vertical marketing tool is very helpful, for it assists us in that venue, as well as targeting customers' competition for new sales…The comprehensive material is absolutely fabulous. I am very impressed, I have to say!

We are especially trying to push Plunkett since all of our students have to do so much industry research and your interface is so easy to use.

I'm amazed at how much information is available and the various ways to access it. This will be a major resource for our serious job seekers.

I really appreciate the depth you were able to get to so quickly (for our project). The team has looked through the material and are very happy with the data you pulled together.

Plunkett Research Online is an excellent resource…the database contains a wealth of useful data on sectors and companies, which is easy to search and well presented. Help and advice on how to conduct, export and save searches is available at all stages.

The more I get into the database, the happier I am that we'll have it–REALLY happy!!! Between the quality and affordability of your product, its appeal to and value for our users, and the inestimably ethical and loyalty-guaranteeing conduct of your business, I will always have more than sufficient praises to sing for Plunkett Research.

Plunkett Research Online provides a great 'one stop shop' for us to quickly come up to speed on major industries. It provides us with an overall analysis of the market, key statistics, and overviews of the major players in the industry in an online service that is fast, easy to navigate, and reliable.

We are especially trying to push Plunkett's since all of our students have to do so much industry research and your interface is so easy to use.