Plunkett's Industry Almanacs in Printed and eBook Formats
Jobs: Major American Employers Industry Almanac 2023 Edition
---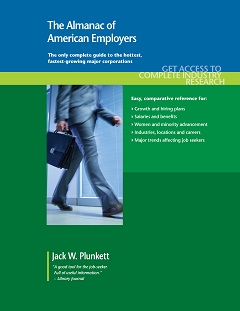 Printed Details
ISBN-13: 978-1-64788-003-3
Publication Date: October 2022
Pages: 612
Price: $399.99
Buy this Book
Ebook Details
ISBN-13: 978-1-62831-995-8
Publication Date: October 2022
Pages: 612
Price: $399.99
Buy this Book
Key Findings:
A complete report by Plunkett Research analyzing both America's top employers and the major trends sweeping through business and the economy that affect job seekers of all types. THE ALMANAC OF AMERICAN EMPLOYERS is the premier guide to 500 of the largest, most successful corporate employers in the nation (those with 2,500+ employee count), their employment practices, benefits and financial performance.

Key Features:
Job market trends analysis, data and competitive intelligence

Employment forecasts and statistics

Important Contacts for Job Seekers

In-Depth Profiles of 500 of the largest, fastest-growing corporate employers



Pages: 612
Statistical Tables Provided: 9
Companies Profiled: 500
Geographic Focus: U.S.
Price: $399.99

Gather Key Insights, Such As:
How is each industry evolving?

How is employment being shaped by new technologies?

How is demand growing?

What are the financial results of the leading companies?

What are the names and titles of top executives?

What are the top companies and what are their revenues?
The Almanac of American Employers and the related online Major Employers Research Center are designed to be time-saving business tools for job seekers, marketers, sales directors, consultants, and strategists seeking to understand vibrant American corporate employers. It will also be of great use to placement, recruiting and human resources professionals, as well as professionals working in economic development, lending, and media. This feature rich almanac includes:
Contents, Statistics and Analysis Include:
Major Trends Affecting Job Seekers
The U.S. Job Market Overview

Cost Control Remains a Major Concern at Employers/Consolidation Through Mergers Continues

The Sharing & Gig Economy's Effect on Employment, Work Life and Careers

Technology Continues to Create Sweeping Changes in the Workplace

Continued Growth in Outsourcing, Including Supply Chain and Logistics Services

Offshoring and the Reshoring of American Manufacturing

Older Americans Will Delay Retirement and Work Longer/Many Employers Find Older Employees Desirable

Employment Sectors that Will Offer an Above-Average Number of Job Opportunities
Statistics
U.S. Employment Overview: 2021-2022

U.S. Civilian Labor Force: 1998-July 2022

Employment by Major Industry Sector: 2010, 2020 & Projected 2030

Number of People Employed and Unemployed, U.S.: July 2021 vs. July 2022

U.S. Labor Force Ages 16 to 24 Years Old by School Enrollment, Educational Attainment, Sex, Race & Ethnicity: October 2021

Retirement Benefits in the U.S.: Access, Participation and Take-Up Rates, March 2021

Top 30 U.S. Fastest Growing Occupations by Percent Change in Job Growth: 2020-2030

Occupations with the Largest Expected Employment Increases, U.S.: 2020-2030

Occupations with the Fastest Expected Decline, U.S.: 2020-2030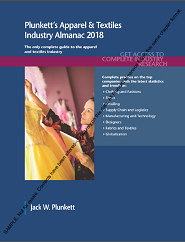 Download a Sample Almanac
*Note: This sample is a previous year's edition for a different industry. All of our Industry Almanacs are similar in nature and follow the same format.
A REPRESENTATIVE LIST OF ORGANIZATIONS THAT HAVE USED OUR RESEARCH PRODUCTS:
Testimonials

Your tool is very comprehensive and immensely useful. The vertical marketing tool is very helpful, for it assists us in that venue, as well as targeting customers' competition for new sales…The comprehensive material is absolutely fabulous. I am very impressed, I have to say!

We are especially trying to push Plunkett since all of our students have to do so much industry research and your interface is so easy to use.

I'm amazed at how much information is available and the various ways to access it. This will be a major resource for our serious job seekers.

I really appreciate the depth you were able to get to so quickly (for our project). The team has looked through the material and are very happy with the data you pulled together.

Plunkett Research Online is an excellent resource…the database contains a wealth of useful data on sectors and companies, which is easy to search and well presented. Help and advice on how to conduct, export and save searches is available at all stages.

The more I get into the database, the happier I am that we'll have it–REALLY happy!!! Between the quality and affordability of your product, its appeal to and value for our users, and the inestimably ethical and loyalty-guaranteeing conduct of your business, I will always have more than sufficient praises to sing for Plunkett Research.

Plunkett Research Online provides a great 'one stop shop' for us to quickly come up to speed on major industries. It provides us with an overall analysis of the market, key statistics, and overviews of the major players in the industry in an online service that is fast, easy to navigate, and reliable.

We are especially trying to push Plunkett's since all of our students have to do so much industry research and your interface is so easy to use.