Plunkett's Industry Almanacs in Printed and eBook Formats
E-Commerce & Internet Industry Almanac 2022 Edition
---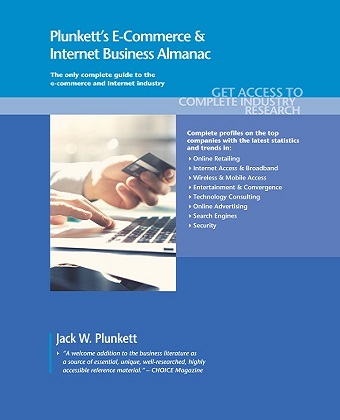 Printed Details
ISBN-13: 978-1-62831-624-7
Publication Date: February 2022
Pages: 654
Price: $379.99
Buy this Book
Ebook Details
ISBN-13: 978-1-62831-932-3
Publication Date: February 2022
Pages: 654
Price: $379.99
Buy this Book
Key Findings:
Plunkett Research analyzes the top trends changing the industry, and provides in-depth industry statistics. In addition, this publication profiles the top 500 companies in the E-Commerce & Internet Business Industry.
Available Formats:
Printed Almanac: 978-1-62831-624-7 ISBN (Available Now)

E-book: 978-1-62831-932-3 ISBN (Available Now)

Plunkett Research Online (Subscribers)
Key Features Include:
Industry trends analysis, market data and competitive intelligence

Market forecasts and Industry Statistics

Industry Associations and Professional Societies List

In-Depth Profiles of hundreds of leading companies

Industry Glossary

Link to our 5-minute video overview of this industry
Pages: 654
Statistical Tables Provided: 9
Companies Profiled: 492
Geographic Focus: Global
Price: $379.99
Key Questions Answered Include:
How is the industry evolving?

How is the industry being shaped by new technologies?

How is demand growing in emerging markets and mature economies?

What is the size of the market now and in the future?

What are the financial results of the leading companies?

What are the names and titles of top executives?

What are the top companies and what are their revenues?
This feature-rich book covers competitive intelligence, market research and business analysis—everything you need to know about the E-Commerce & Internet Business including:
Introduction to the E-Commerce & Internet Business

The Coronavirus' Effect on the E-commerce & Internet Business

Bricks, Clicks and Catalogs Create Synergies While Online Sales Growth Surges

Amazon Continues to Boost its Market Share

Retailers Offer Expedited Delivery to Compete with Amazon

Package and Food Delivery by Drone

Wi-Fi Enables Wireless Traffic Growth, Including the Internet of Things (IoT)

Global Internet Market Tops 5.2 Billion Users/Ultrafast Broadband Expands, both Fixed and Wireless

Fiber-to-the-Home (FTTH) Gains Traction

Cloud Computing and Software as a Service (SaaS) Point the Way to the Future

China Is the World's Largest E-commerce Market and Continues to Boom

India Is the New E-Commerce Battle Ground

Overview of the Social Media Industry

Social Media Generates Billions of Dollars in Global Online and Mobile Ad Revenues

Digital & Search Advertising Soar, Has Larger Share of U.S. Advertising Market Than TV

Programmatic Ad Buying Dominates the Digital Media Market

Online Travel Agencies (OTAs) Continue Strong Growth in Bookings/Hotels Fight to Keep Control of the Customer

Apple's iTunes Set the Standard in the Music Industry, but Digital Sales Slow

Pandora and Spotify Lead in Streaming Music Via Internet Radio but Face Challenge from Apple Music/SiriusXM Tops 34.3 Million Subscribers

Overview of the Mobile Apps Industry

Cable and Satellite TV Struggle With Cord-Cutting

Streaming Apps Services Dominate

Quality of Care and Health Care Outcomes Data Are Available Online, Creating a New
Level of Transparency

The Internet, Smartphones and ATMs Replace Bank Branches and Tellers

Insurance Direct Selling and E-Commerce Grow

The Internet of Things (IoT) and M2M to Boom, Enhanced by Artificial Intelligence (AI)

Designers and Manufacturers Bypass the Middleman with Direct-to-Consumer Online
Business Models

Fashion Rental Pioneered by Online Apparel Firm Rent the Runway

Smaller Satellites (SmallSats and CubeSats) and Low Earth Orbit Revolutionize Telecommunications

Sharing Economy Gains Market Share in Travel with Online Sites Like Airbnb, Vrbo and
Many Global Competitors

Digital Assistants Include Amazon's Echo and Google's Home/Alexa and Similar Software Power Third-Party Developers

Subscription Fashion Services, Including Stitch Fix, Target Consumers

Amazon Becomes One of the World's Leading Sellers of Apparel and Shoes
E-Commerce & Internet Business Industry Statistics
Ecommerce & Internet Business Statistics and Market Size Overview

Ecommerce Related Services Quarterly Revenue, U.S.: 2020-2021

U.S. Retail Trade Sales, Total & Ecommerce: 2017-2020

Total & Ecommerce Sales for Electronic Shopping & Mail-Order Houses,
By Merchandise Line, U.S.: 2017-2020

Internet Publishing & Broadcasting & Web Search Portals: Estimated Revenue & Expenses, U.S.: 2016-2021

Internet Access Technologies Compared

Number of Business & Residential High Speed Internet Lines, U.S.: 2016-2021

Amazon.com, Inc. Annual Sales & Income: 2015-2021

Employment in Ecommerce & Internet-related Fields, U.S.: 2001-2021
Companies Mentioned Include:
Xaxis

Instacart

1-800-Flowers.com Inc

EarthLink LLC

Automatic Data Processing Inc (ADP)

Renren Inc

About Inc

Embarcadero Technologies Inc

Vodafone Group plc

Rakuten Inc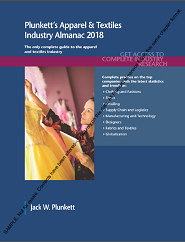 Download a Sample Almanac
*Note: This sample is a previous year's edition for a different industry. All of our Industry Almanacs are similar in nature and follow the same format.
A REPRESENTATIVE LIST OF ORGANIZATIONS THAT HAVE USED OUR RESEARCH PRODUCTS:
Testimonials

Your tool is very comprehensive and immensely useful. The vertical marketing tool is very helpful, for it assists us in that venue, as well as targeting customers' competition for new sales…The comprehensive material is absolutely fabulous. I am very impressed, I have to say!

We are especially trying to push Plunkett since all of our students have to do so much industry research and your interface is so easy to use.

I'm amazed at how much information is available and the various ways to access it. This will be a major resource for our serious job seekers.

I really appreciate the depth you were able to get to so quickly (for our project). The team has looked through the material and are very happy with the data you pulled together.

Plunkett Research Online is an excellent resource…the database contains a wealth of useful data on sectors and companies, which is easy to search and well presented. Help and advice on how to conduct, export and save searches is available at all stages.

The more I get into the database, the happier I am that we'll have it–REALLY happy!!! Between the quality and affordability of your product, its appeal to and value for our users, and the inestimably ethical and loyalty-guaranteeing conduct of your business, I will always have more than sufficient praises to sing for Plunkett Research.

Plunkett Research Online provides a great 'one stop shop' for us to quickly come up to speed on major industries. It provides us with an overall analysis of the market, key statistics, and overviews of the major players in the industry in an online service that is fast, easy to navigate, and reliable.

We are especially trying to push Plunkett's since all of our students have to do so much industry research and your interface is so easy to use.