Plunkett's Industry Almanacs in Printed and eBook Formats
Consulting Industry Almanac 2022 Edition
---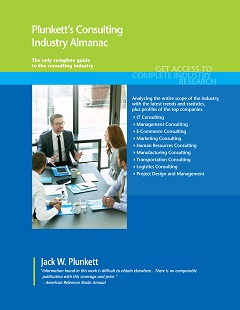 Printed Details
ISBN-13: 978-1-62831-612-4
Publication Date: July 2022
Pages: 356
Price: $379.99
Buy this Book
Ebook Details
ISBN-13: 978-1-62831-930-9
Publication Date: July 2022
Pages: 356
Price: $379.99
Buy this Book
Key Findings:
Plunkett Research analyzes the top trends changing the industry, and provides in-depth industry statistics. In addition, this publication profiles the top 250 companies in Consulting.
Available Formats:
Printed Almanac: ISBN 978-1-62831-612-4 (Available Now)

E-book: ISBN 978-1-62831-930-9 (Available Now)

Plunkett Research Online (Subscribers)
Key Features Include:
Industry trends analysis, market data and competitive intelligence

Market forecasts and Industry Statistics

Industry Associations and Professional Societies List

In-Depth Profiles of hundreds of leading companies

Industry Glossary

Link to our 5-minute video overview of this industry
Pages: 358
Statistical Tables Provided: 4
Companies Profiled: 238
Geographic Focus: Global
Price: $379.99
Key Questions Answered Include:
How is the industry evolving?

How is the industry being shaped by new technologies?

How is demand growing in emerging markets and mature economies?

What is the size of the market now and in the future?

What are the financial results of the leading companies?

What are the names and titles of top executives?

What are the world's top companies and what are their revenues?
This feature-rich book covers competitive intelligence, market research and business analysis—everything you need to know about the consulting business including:
Introduction to the Consulting Industry

The Coronavirus' Effect on the Consulting Industry

Consulting in Emerging Nations/The Offshoring of Consulting Projects

Management Consulting and Consulting to Major Corporations

Consulting to Governments/U.S. Federal and State Consulting Contracts

Federal Government Consulting Contracts Are Massive in IT, Defense & Facilities

IT Consulting/Software Consulting/Computer Operations Consulting

Trends in Manufacturing, such as Original Design Manufacturers (ODMs), Lead to Collaboration and Consulting-Like Services

Consulting Firms Accept Assignments with Contingency Fees

Consulting Firms Acquire Digital Advertising Agencies, Extending Their Marketing Services

Accounting Firms Taking Large Market Share of Consulting Contracts

Many Industry Sectors Seek Consulting and Outsourcing Income, Competing with Pure Consultancies

Major Corporations and Organizations Develop Internal Consultants and Seek Outside Clients

Corporate Clients Want Solid Returns on IT Investments

Consultancies Position Themselves to Serve Global Markets and Multinational Corporations

Offshoring to India Drives Changes in Global Consulting

BPO and KPO: White-Collar and Professional Tasks Are such as Law and Accounting Are Outsourced/Call Centers Become More Sophisticated

Robotic Process Automation (RPA) Is Replacing Human Workers

New MBAs Desire Consulting and Accounting Jobs
Consulting Industry Statistics
Consulting Industry Statistics and Market Size Overview

Consulting Industry Revenue & Expenses, U.S.: 2015-2020

Management Consulting Companies: Estimated Sources of Revenue, U.S.: 2015-2019

Consulting Industry Employment, U.S.: 2015-March 2021
Companies Mentioned Include:
Abt Associates Inc

Arthur D Little

Helios & Matheson Analytics Inc

ABB LTD

Abelica Global

Affiliated Computer Services Inc

PA Consulting Group

Randstad Holding NV

Amey plc

Analysts International Corporation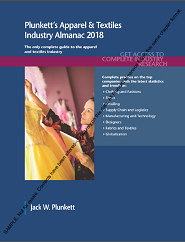 Download a Sample Almanac
*Note: This sample is a previous year's edition for a different industry. All of our Industry Almanacs are similar in nature and follow the same format.
A REPRESENTATIVE LIST OF ORGANIZATIONS THAT HAVE USED OUR RESEARCH PRODUCTS:
Testimonials

Your tool is very comprehensive and immensely useful. The vertical marketing tool is very helpful, for it assists us in that venue, as well as targeting customers' competition for new sales…The comprehensive material is absolutely fabulous. I am very impressed, I have to say!

We are especially trying to push Plunkett since all of our students have to do so much industry research and your interface is so easy to use.

I'm amazed at how much information is available and the various ways to access it. This will be a major resource for our serious job seekers.

I really appreciate the depth you were able to get to so quickly (for our project). The team has looked through the material and are very happy with the data you pulled together.

Plunkett Research Online is an excellent resource…the database contains a wealth of useful data on sectors and companies, which is easy to search and well presented. Help and advice on how to conduct, export and save searches is available at all stages.

The more I get into the database, the happier I am that we'll have it–REALLY happy!!! Between the quality and affordability of your product, its appeal to and value for our users, and the inestimably ethical and loyalty-guaranteeing conduct of your business, I will always have more than sufficient praises to sing for Plunkett Research.

Plunkett Research Online provides a great 'one stop shop' for us to quickly come up to speed on major industries. It provides us with an overall analysis of the market, key statistics, and overviews of the major players in the industry in an online service that is fast, easy to navigate, and reliable.

We are especially trying to push Plunkett's since all of our students have to do so much industry research and your interface is so easy to use.