All You Need to Know About Covid's Impact on the Travel Industry
Full coverage of the Travel Industry: Just published—our 2021 edition. Order now!
Plunkett Research now provides complete coverage of the Coronavirus's effects on specific industries, via both our industry almanacs and our Plunkett Research Online system.
The Coronavirus pandemic of 2020 has decimated the airline, hotel and travel industry, including all of the many sectors that serve it, such as online booking sites, caterers and convention centers. The United Nations World Tourism Office (UNWTO) estimated that the travel industry incurred revenue shortfalls of $320 billion during the first five months of 2020, and that the shortfall could increase to a total in the range of $910 billion to $1.2 trillion for the entire year. This put more than 120 million jobs at risk.
According to the International Air Transport Association (IATA), global airlines are expected to lose a collective $84 billion in 2020. Airline passenger volumes dropped 95% in April 2020. Airline companies are drastically reducing total numbers of flights and retiring older aircraft and A number of airlines declared bankruptcy in the early months of 2020.
Companies are curtailing business travel almost completely, as significant numbers of employees are working from home and meetings are happening virtually. This lack of business travel has a painful effect on related sectors, such as meeting planners, convention centers, restaurants, airport operators and car rental firms.
The American Hotel & Lodging Association (AHLA) reported short falls in the U.S. of more than $46 billion in room revenue during the first five months of the pandemic. This does not take into account lost revenue from banquets, weddings, trade shows and similar services.
The pandemic also caused a near-total shutdown of the global cruise industry. Virtually every cruise ship in the world was sitting at anchor, empty of passengers as of Spring 2020.
On the plus side, road trips became a focus for many vacationers. Many people now prefer driving their own vehicles to a nearby beach or mountain destination. Likewise, many people in the United States took to camping for self-contained vacationing in the great outdoors.
Plunkett Research, Ltd. is the leading provider of industry sector analysis and research, industry trends and industry statistics. Both our Plunkett Research Online and our 2021 Industry Almanacs feature coverage of the Coronavirus's effects on specific industries. Our research reports and online subscription service are used by the world's top corporations, consultants, universities, libraries and government agencies.
Plunkett's products save time and effort when you need competitive intelligence, market research, vertical industry marketing data, or industry trends analysis. We cover such vital industry sectors as health care, financial services, retailing, entertainment, energy and information technology.
For everything you need to know about the global Airline, Hotel & Travel sector, see:
Plunkett's Airline, Hotel & Travel Industry Almanac 2021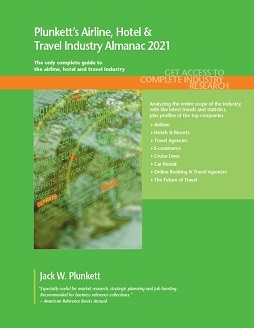 🛒Order the Airline, Hotel & Travel Industry Almanac 2021 here 🛒

Available to Plunkett Research Online subscribers
See more information about the online edition here.
Also available in Almanac Editions.
Publication Date: September 2020 | Price: $379.99
Printed ISBN: 978-1-62831-581-3
eBook ISBN: 978-1-62831-888-3
See the complete listings of book contents and details here.