Plunkett's Industry Almanacs in Printed and eBook Formats
Insurance & Risk Management Industry Almanac 2023 Edition
---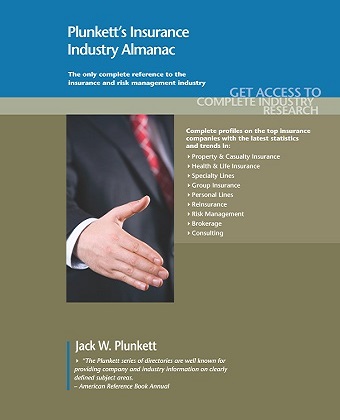 Printed Details
ISBN-13: 978-1-62831-657-5
Publication Date: November 2022
Pages: 498
Price: $399.99
Buy this Book
Ebook Details
ISBN-13: 978-1-62831-982-8
Publication Date: November 2022
Pages: 498
Price: $399.99
Buy this Book
Key Findings:
A complete market research report, including forecasts and market estimates, technologies analysis and developments at innovative firms within the Insurance Industry. Gain vital insights that can help shape strategy for business development, product development and investments.

Key Features:
Business trends analysis

In-depth industry overview

Technology trends analysis

Forecasts

Spending, investment, and consumption discussions

In-depth industry statistics and metrics

Industry employment numbers
Additional Key Features Include:
Industry Glossary
Industry Contacts list, including Professional Societies and Industry Associations
Profiles of industry-leading companies
U.S. and Global Firms

Publicly held, Private and Subsidiaries

Executive Contacts

Revenues

For Public Companies: Detailed Financial Summaries
Pages: 498
Statistical Tables Provided: 12
Companies Profiled: 350
Geographic Focus: Global
Price: $399.99

Key Questions Answered Include:
How is the industry evolving?

How is the industry being shaped by new technologies?

How is demand growing in emerging markets and mature economies?

What is the size of the market now and in the future?

What are the financial results of the leading companies?

What are the names and titles of top executives?

What are the top companies and what are their revenues?
This feature-rich report covers competitive intelligence, market research and business analysis—everything you need to know about the Insurance Industry.

Major Trends Affecting the Insurance Industry
Introduction to the Insurance Industry

Post-COVID, How the Insurance Industry Stands After the Coronavirus

Sophisticated Risk Management and Prevention Programs Lead to Lower Losses

Risk Managers Seek Certification

Independent Agencies Continue to Dominate Commercial Insurance, but Play a Lesser Role in Personal Lines

Insurance Direct Selling and E-Commerce Grow

Insurance Underwriting Uses Artificial Intelligence (AI)/Policy Holders Allow Their Habits to Be Tracked for Lower Insurance Rates

Artificial Intelligence (AI) Enables Life Insurance Underwriting

States Pick Up Some Wind and Flood Risk for Homeowners/Underwriters Rely on Sophisticated Risk Analysis Technology to Set Rates

No End in Sight to the Growth of Specialized Insurance Lines

Health Sharing Ministries Attract Millions of Members

Annuity Account Managers Create New Product Strategies/Fiduciary Rule Changes Help Annuity Sales Soar

Major U.S., Japanese and European Insurance Firms See Vast Promise in Chinese, Southeast Asian and Emerging Markets

Continued Rise in Health Care Costs

Number of Uninsured Americans Declines But Remains High

U.S. Affordable Care Act (ACA) of 2010 Rewrote the Rules and Increased Coverage, But Costs Continue to Rise

Employers Fight Rapidly Growing Health Care Premiums/Require Employees to Pay a Significant Share of Costs

Insurance Companies Change Strategies Due to Affordable Care Act (ACA) and Rapidly Rising Costs of Care

Malpractice Suits Are Blamed for Rising Health Care Costs/Tort Reform Is Capping Awards for Damages

Hedge Funds and Private Equity Play a Major Role in Financial Products Including Derivatives, Lending and Insurance

Aging Populations, Baby Boomers Create Opportunities/U.S. Pension Accounts Top $33.7 Trillion

Basel III, Dodd-Frank Act and Volcker Act Increase Regulation/European Solvency II and MiFID 2 Take Effect

Financial Technology (FinTech) Enables Online Lending, Insurance and Robo Advisors

Drones Save Time and Money in a Variety of Industries Including Insurance, Real Estate and Construction

Gig Economy and Self-Driving Cars Pose Insurance Challenges and Underwriting Opportunities

The Future of the Insurance Industry and Risk Management
Insurance Industry Statistics
Insurance Industry Statistics and Market Size Overview

Assets & Liabilities of U.S. Property-Casualty Insurance Companies: 2019-2nd Quarter 2022

Assets & Liabilities of U.S. Life Insurance Companies: 2019-2nd Quarter 2022

Typical U.S. Automobile Insurance Costs, per Year: 2021

Employers' Costs for Total Compensation and Health Insurance, by Selected Characteristics, U.S.: Selected Years, 2018-2022

The Nation's Health Dollar: 2022 Where It Came From (Estimated)

The Nation's Health Dollar: 2022 Where It Went (Estimated)

Number & Percent of Persons of All Ages with and without Health Insurance Coverage, U.S.: 2002-2021

Number & Percent of Persons without Health Insurance Coverage, by Age Group, U.S.: 2000-2021

Medical Care Benefits in the U.S.: Access, Participation and Take-Up Rates, March 2022

Retirement Benefits in the U.S.: Access, Participation and Take-Up Rates, March 2022

Employment in the Insurance Industry, U.S.: 2016-July 2022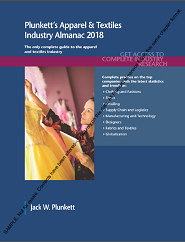 Download a Sample Almanac
*Note: This sample is a previous year's edition for a different industry. All of our Industry Almanacs are similar in nature and follow the same format.
A REPRESENTATIVE LIST OF ORGANIZATIONS THAT HAVE USED OUR RESEARCH PRODUCTS:
Testimonials

Your tool is very comprehensive and immensely useful. The vertical marketing tool is very helpful, for it assists us in that venue, as well as targeting customers' competition for new sales…The comprehensive material is absolutely fabulous. I am very impressed, I have to say!

We are especially trying to push Plunkett since all of our students have to do so much industry research and your interface is so easy to use.

I'm amazed at how much information is available and the various ways to access it. This will be a major resource for our serious job seekers.

I really appreciate the depth you were able to get to so quickly (for our project). The team has looked through the material and are very happy with the data you pulled together.

Plunkett Research Online is an excellent resource…the database contains a wealth of useful data on sectors and companies, which is easy to search and well presented. Help and advice on how to conduct, export and save searches is available at all stages.

The more I get into the database, the happier I am that we'll have it–REALLY happy!!! Between the quality and affordability of your product, its appeal to and value for our users, and the inestimably ethical and loyalty-guaranteeing conduct of your business, I will always have more than sufficient praises to sing for Plunkett Research.

Plunkett Research Online provides a great 'one stop shop' for us to quickly come up to speed on major industries. It provides us with an overall analysis of the market, key statistics, and overviews of the major players in the industry in an online service that is fast, easy to navigate, and reliable.

We are especially trying to push Plunkett's since all of our students have to do so much industry research and your interface is so easy to use.