Plunkett's Industry Almanacs in Printed and eBook Formats
Cybersecurity, Digital ID & Online Fraud Industry eBook 2022 Edition
---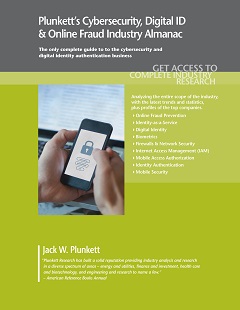 Printed Details
ISBN-13: 978-1-62831-631-5
Publication Date: May 2022
Pages: 240
Price: $399
Buy this Book
Ebook Details
ISBN-13: 978-1-62831-956-9
Publication Date: May 2022
Pages: 240
Price: $399
Buy this Book
Key Findings:
Plunkett Research analyzes the top trends changing the industry, and provides in-depth industry statistics. In addition, this publication profiles the top 150 companies in the Cybersecurity, Digital ID & Online Fraud Industry.
Available Formats:
Printed Almanac: ISBN 978-1-62831-631-5 (Available)

E-book: ISBN 978-1-62831-956-9 (Available)

Plunkett Research Online (Subscribers)
Key Features Include:
Industry trends analysis, market data and competitive intelligence

Market forecasts and Industry Statistics

Industry Associations and Professional Societies List

In-Depth Profiles of hundreds of leading companies

Industry Glossary
Pages: 240
Statistical Tables Provided: 7
Companies Profiled: 147
Geographic Focus: Global
Price: $379.99
Key Questions Answered Include:
How is the industry evolving?

How is the industry being shaped by new technologies?

How is demand growing in emerging markets and mature economies?

What is the size of the market now and in the future?

What are the financial results of the leading companies?

What are the names and titles of top executives?

What are the top companies and what are their revenues?
This feature-rich book covers competitive intelligence, market research and business analysis—everything you need to know about the Cybersecurity, Digital ID & Online Fraud business including:
Introduction to the Cybersecurity, Digital ID & Online Fraud Industry

The Coronavirus' Effect on the Cybersecurity and Digital ID Industry

Digital ID and Online Authentication Fraud Soars/Sophisticated Technologies and Databases Respond

Why You Should Never Reuse Passwords/The Dark Web and Credential Stuffing

Online Fraud/Payments Fraud Adapt and Evolve Continuously

Network Anti-Fraud Technologies Advance, Including use of Artificial Intelligence, Machine learning

Online Fraud Often Begins with New Account Setup or Account Takeover

Voice, Face & Image Recognition Change the Wireless World, Enhanced Through Artificial Intelligence (AI)

Smart Cities Utilize Sensors and Artificial Intelligence (AI)/Create Privacy and Security Issues

The Internet of Things (IoT) and M2M to Boom, Enhanced by Artificial Intelligence (AI)/Open New Avenues for Hacking

Artificial Intelligence (AI), Deep Learning and Machine Learning Advance into Commercial Applications, Including Health Care and Robotics

Peer-to-Peer (P2P) Payment Systems, such as Zelle and Venmo, Soar in Popularity/Require Rigorous ID Verification

Growth Growth in Big Data Supported by Expansion of Cloud Computing and Predictive Analytics

The Future: Pervasive Computing and Complete Mobility Will Be Standard
Cybersecurity, Digital ID & Online Fraud Industry Statistics
Cybersecurity, Digital ID, & Online Fraud Overview

Cyber Crimes Types and Victims Affected, U.S.

Data Processing, Hosting, and Related Services Industry, U.S.: Estimated Revenue & Expenses: 2016-2021

Data Processing, Hosting, and Related Services Industry, U.S.: Estimated Selected Expenses: 2014-2019

Computer Systems Design and Related Services Industry, U.S.: Estimated Revenue & Expenses: 2014-2019

Research Funding for Computer and Information Science Engineering, U.S. National Science Foundation: Fiscal Years 2020-2022

Computer and Mathematical Occupation Related Employment by Occupation, U.S.: May 2021
Companies Mentioned Include:
Amazon.com Inc

Microsoft Corporation

International Business Machines Corporation (IBM)

Lockheed Martin Corporation

Cisco Systems Inc

Amazon Web Services Inc (AWS)

BAE Systems plc

Broadcom Inc

Experian plc

Juniper Networks Inc