Plunkett's Industry Almanacs in Printed and eBook Formats
Computers, Software & Technology Almanac 2017 Edition
---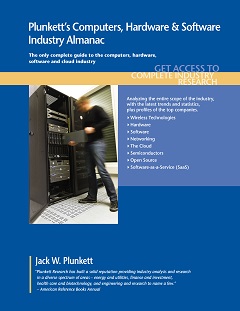 Printed Details:
ISBN-13: 978-1-62831-428-1
Publication Date: January 2017
Pages: 650
Price: $349.99
Buy this Book
Ebook Details
ISBN-13: 978-1-62831-753-4
Publication Date: January 2017
Pages: 650
Price: $349.99
Buy this Book
Key Findings:
Plunkett Research lists top 500 companies in the Computers, Software, Hardware & Technology Industry and names the top trends changing for the mid term.
Available Formats:
Printed Almanac: ISBN 978-1-62831-428-1 (Available Now)

E-book: ISBN 978-1-62831-753-4 (Available Now)

Online Subscription
Key Features Include:
Industry trends analysis, market data and competitive intelligence

Market forecasts and Industry Statistics

Industry Associations and Professional Societies List

In-Depth Profiles of hundreds of leading companies

Industry Glossary

Buyer may register for free access to search and export data at Plunkett Research Online

Link to our 5-minute video overview of this industry
Pages: 649
Statistical Tables Provided: 14
Companies Profiled: 482
Geographic Focus: Global
Price: $349.99
Key Questions Answered Include:
How is the industry evolving?

How is the industry being shaped by new technologies?

How is demand growing in emerging markets and mature economies?

What is the size of the market now and in the future?

What are the financial results of the leading companies?

What are the names and titles of top executives?

What are the top companies and what are their revenues?
This feature-rich book covers competitive intelligence, market research and business analysis—everything you need to know about the computers, software, hardware & technology business including:
Introduction to the InfoTech Industry

Hot Fields Within Computer Hardware and Software Include Artificial Intelligence, Cybersecurity and Big Data

Tablets and Smartphones Cause Decline in PC and Laptop Computer Market

Computer and Smartphone Markets in India and China Targeted by Manufacturers

Domestic Manufacturing and Investment Grow

Supercomputing Hits 93.01 Petaflops/IBM's Watson Expands Commercial Applications for Big Data

New Semiconductors Provide Higher Speeds and Lower Power Consumption/China

Invests in Domestic Chip Manufacturing and Research

Open Source Systems Grow/New Operating Systems Launch

Cloud Computing and Software as a Service (SaaS) Point the Way to the Future

Growth in Big Data Supported by Expansion of Cloud Computing and Predictive Analytics

Wi-Fi Enables Wireless Traffic Growth

Google, CableVision, FreedomPop and Republic Wireless Bypass Cellular Networks with Wi-Fi

Global Internet Market Tops 3.5 Billion Users/Ultrafast Broadband Expands, both Fixed and Wireless

Fiber-to-the-Home (FTTH) Gains Traction

TVs Are Internet Ready/Game Consoles and Set Top Accessories like Roku and

Chromecast Stream Content

Electronic Health Records (EHR) Digitize Patient Data at an Accelerating Pace

Many Industry Sectors Seek Consulting and Outsourcing Income, Competing with Pure Consultancies

The Future: Pervasive Computing and Complete Mobility Will Be Standard

Silicon Chips with 7-Nanometer Density/Memristors/Nanotechnology to Create Powerful Semiconductors with Advantages Over Silicon

Nanotechnology Holds the Key to the Ultradense NRAM Digital Memory of the Future

Breakthroughs Achieved in Quantum Computing

Voice Recognition Changes the Wireless World/Enables New Bots and Hardware

Digital Assistants Include Amazon's Echo and Google's Home/Alexa and Similar Software Power Third-Party Developers

Wearable Sensors Track Exercise Data/Apparel and Shoe Manufacturers Adopt

Technologies

The "Internet of Things" (IoT) and M2M: Wireless Sensors to Boom, Aided by

Nanotechnology

Artificial Intelligence (AI), Deep Learning and Machine Learning Advance into

Commercial Applications, Including Health Care and Robotics

Virtual Reality and 3-D Games Create Opportunities for the Tech Industry/Immersion

Games to Grow

Cloud Computing Squeezes the Outsourcing Industry
Computers, Software, Hardware & Technology Industry Statistics
InfoTech Industry Statistics and Market Size Overview

Internet Access Technologies Compared

U.S. InfoTech Industry Quarterly Revenue: 2015-2016

Software Publishing Industry, U.S.: Estimated Revenue, Inventories & Expenses: 2010-2016

Internet Publishing & Broadcasting & Web Search Portals: Estimated Revenue & Expenses,

U.S.: 2010-2015

Estimated Quarterly U.S. Retail Sales, Total & E-Commerce: 1st Quarter 2007-3rd Quarter 2016

Top Ten Suppliers & Destinations of U.S. Computers & Electronic Products: 2010-2nd Quarter 2016

Value of Computers & Electronic Products Manufacturers' Shipments, Inventories & Orders by Industry, U.S.: 2008-2016

Exports, Imports & Trade Balance of Computers & Electronic Products, U.S.: 2010-

2nd Quarter 2016

Exports & Imports of Telecommunications Equipment, U.S.: 2010-1st Quarter 2016

Number of Business & Residential High Speed Internet Lines, U.S.: 2011-2016

Computer Industry Employment by Business Type, U.S.: 2010-October 2016

InfoTech Employment, U.S.: 2000-October 2016
Companies Mentioned Include:
Adobe Systems Inc

Benchmark Electronics Inc

Activision Blizzard Inc

Acxiom Corp

Omron Adept Technologies Inc

ADTRAN Inc

Advanced Micro Devices Inc (AMD)

Affiliated Computer Services Inc

Akamai Technologies Inc

ASG Technologies Group Inc
A REPRESENTATIVE LIST OF ORGANIZATIONS THAT HAVE USED OUR RESEARCH PRODUCTS:
Testimonials

Your tool is very comprehensive and immensely useful. The vertical marketing tool is very helpful, for it assists us in that venue, as well as targeting customers' competition for new sales…The comprehensive material is absolutely fabulous. I am very impressed, I have to say!


We are especially trying to push Plunkett since all of our students have to do so much industry research and your interface is so easy to use.


I'm amazed at how much information is available and the various ways to access it. This will be a major resource for our serious job seekers.


I really appreciate the depth you were able to get to so quickly (for our project). The team has looked through the material and are very happy with the data you pulled together.


Plunkett Research Online is an excellent resource…the database contains a wealth of useful data on sectors and companies, which is easy to search and well presented. Help and advice on how to conduct, export and save searches is available at all stages.


The more I get into the database, the happier I am that we'll have it–REALLY happy!!! Between the quality and affordability of your product, its appeal to and value for our users, and the inestimably ethical and loyalty-guaranteeing conduct of your business, I will always have more than sufficient praises to sing for Plunkett Research.


Plunkett Research Online provides a great 'one stop shop' for us to quickly come up to speed on major industries. It provides us with an overall analysis of the market, key statistics, and overviews of the major players in the industry in an online service that is fast, easy to navigate, and reliable.


We are especially trying to push Plunkett's since all of our students have to do so much industry research and your interface is so easy to use.