Build executive mailing lists, export industry guides in PDF, export industry statistics to tables with our data export tools
Data Export Tools
Subscribers can create and export custom data sets, mailing lists and Industry Reports from Plunkett Research, with just a few clicks of the mouse. Access to these data tools depends on the level of subscription.
Subscribers to the Professional Editions and Enterprise/Library Editions of Plunkett Research Online have access to the following custom data tools.
Export Custom Data and reports:
Mailing Lists and Company Data: Export custom company information and mailing list files to Excel or text for use in mail merge and contact management software.
Statistics: Export industry statistical tables to Excel.
PDFs: Export company profiles, trends analysis and statistics pages to PDF.
Industry Associations and Professional Societies: Export custom association information and mailing list files to Excel or text for use in mail merge and contact management software.
Build-A-Report SM: Create custom Industry Summaries and Briefing Books in PDF format, using our proprietary Build-A-Report tool. Your custom report may include:
a) Industry trends analysis
b) Industry statistics
c) Company profiles
d) Industry glossary
e) Industry associations list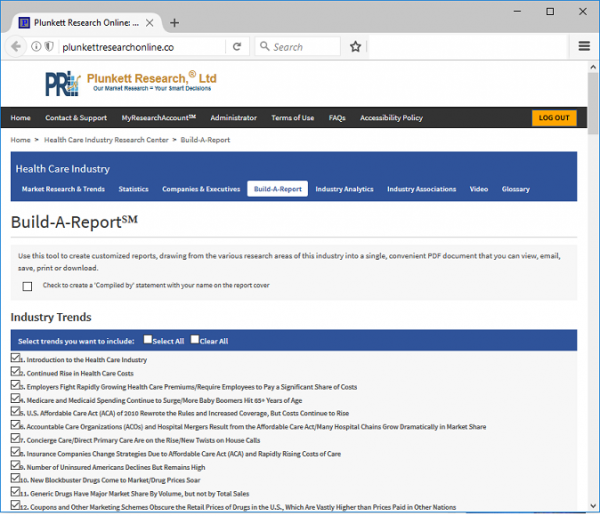 Export Companies List Tool: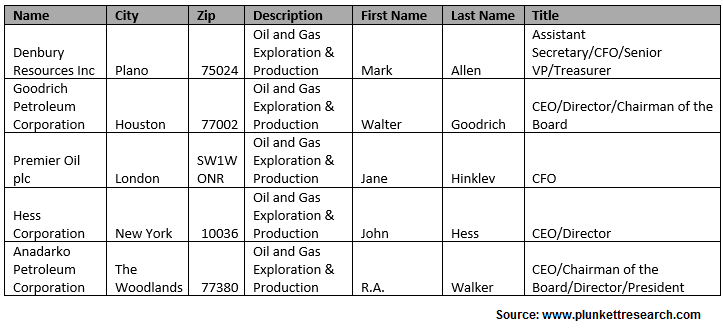 MARKET RESEARCH AND BUSINESS ANALYSIS ON PLUNKETT RESEARCH ONLINE:
✔
500 Industries Analyzed for Market Size, Profits and Forecasts
✔
25,000 Companies Profiled, Ranked and Analyzed
✔
100,000 Industry Statistics
✔
150,000 Industry Executives Profiled
✔
1,000 Vital Trends Analyzed, totalling 1,000,000 words
A REPRESENTATIVE LIST OF ORGANIZATIONS THAT HAVE USED OUR RESEARCH PRODUCTS:
Testimonials

I really appreciate the depth you were able to get to so quickly (for our project). The team has looked through the material and are very happy with the data you pulled together.


Plunkett Research Online is an excellent resource…the database contains a wealth of useful data on sectors and companies, which is easy to search and well presented. Help and advice on how to conduct, export and save searches is available at all stages.


The more I get into the database, the happier I am that we'll have it–REALLY happy!!! Between the quality and affordability of your product, its appeal to and value for our users, and the inestimably ethical and loyalty-guaranteeing conduct of your business, I will always have more than sufficient praises to sing for Plunkett Research.


Plunkett Research Online provides a great 'one stop shop' for us to quickly come up to speed on major industries. It provides us with an overall analysis of the market, key statistics, and overviews of the major players in the industry in an online service that is fast, easy to navigate, and reliable.


We are especially trying to push Plunkett's since all of our students have to do so much industry research and your interface is so easy to use.